Defying economic headwinds, APAC alt protein investments soared in 2022
New analysis released today by the Good Food Institute APAC shows that investments into alternative protein companies in Asia Pacific rose substantially from 2021 to 2022 in all three pillars of alternative proteins: plant-based, fermentation, and cultivated.
The Top Line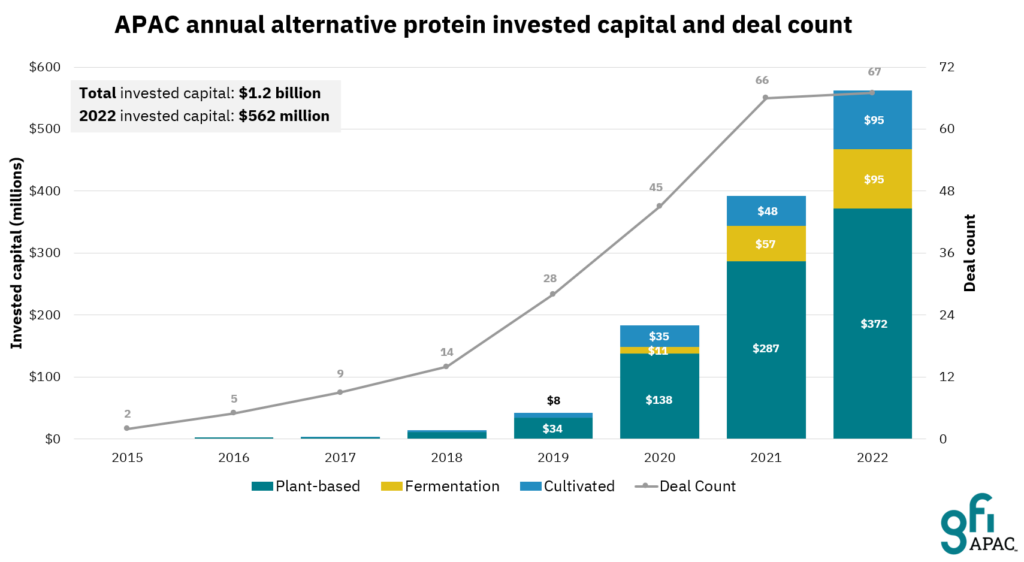 Source: GFI analysis of data from Pitchbook Data, Inc. Data has not been reviewed by PitchBook analysts.
Note: Invested capital includes accelerator and incubator funding, angel, seed funding, equity and product crowdfunding, early-stage venture capital, late-stage venture capital, private equity growth/expansion, capitalisation, corporate venture, joint venture, convertible debt, and general debt completed deals. The total deal count includes deals with undisclosed amounts. Please also note that the figures published in this report may differ from prior figures published by GFI as we and PitchBook continually improve our datasets.
The hard numbers, year-over-year in APAC (in USD):
Plant-based food investments increased by 30 percent, from $287 million to $372 million.
Fermentation investments increased by 67 percent, from $57 million* to $95 million.
Cultivated investments increased by 96 percent, from $48 million* to $95 million.
Total APAC alternative protein investments increased by 43 percent, from $392 million to $562 million.
Notably, the 2022 investment totals for both fermentation-derived and cultivated foods were so strong that they not only surpassed the previous year, but also surpassed the previous all-time totals for each sector's history in APAC.
*Note: Between 2021 and 2022, Singapore-based startup TurtleTree was reclassified in GFI's analysis as a fermentation company, instead of cultivated. This reclassification alters some of the previously published 2021 investment totals—which originally showed $30M in fermentation investments in 2021 and $62M for cultivated—but does not change the overall upward trajectory of both cultivated and fermentation investments in APAC.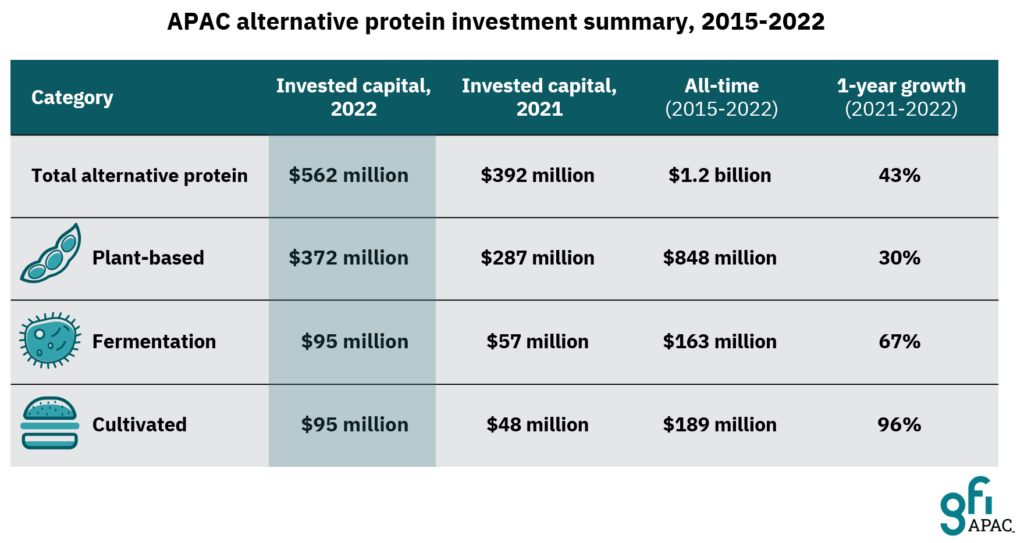 Perhaps even more encouraging is the fact that APAC's region-wide strength appears to be both broad and deep, not isolated to a single country or company.
Despite heavy global economic headwinds for plant-based foods, the investment deal count held relatively steady, falling only slightly from 38 in 2021 to 33 in 2022. The deal counts for fermentation and cultivated foods actually rose from 9 to 14 and 19 to 20, respectively.
As a cautionary note, it is worth pointing out that the two largest funding rounds in APAC both happened in Q1 2022, which suggests that they were the spillover result of negotiations during the late-2021 investment exuberance. That said, while lower than in the first quarter, investment figures from the last three quarters of 2022 remained stable, even in the face of a global investment downturn.
Indeed, the shifting global economic climate and associated lower valuations opened up new opportunities for investors to double down on alternative proteins in emerging markets.
Looking at the top 10 investment deals in APAC shows a 53 percent rise in average deal size compared with the top 10 deals in 2021.
"Building a more secure, sustainable, and just food system is not merely a choice in Asia—it's a necessity. Conventional animal agriculture is ill-equipped to handle the escalating pressures of skyrocketing protein demand, increased climate disruption, land and water scarcity, and threats of viral outbreaks. With the global economic downturn starting to make deals more affordable, there is a huge opportunity for forward-thinking investors to reap rewards as Asia's food future evolves."
GFI APAC Managing Director Mirte Gosker
Hotbeds of Growth
Zooming within the APAC data, two countries that experienced especially large gains in 2022 were Singapore and China.
In Singapore—currently the only country on Earth where products from all three pillars of alternative proteins are approved for commercial sale—total alternative protein investments doubled from $85 million in 2021 to $170 million in 2022.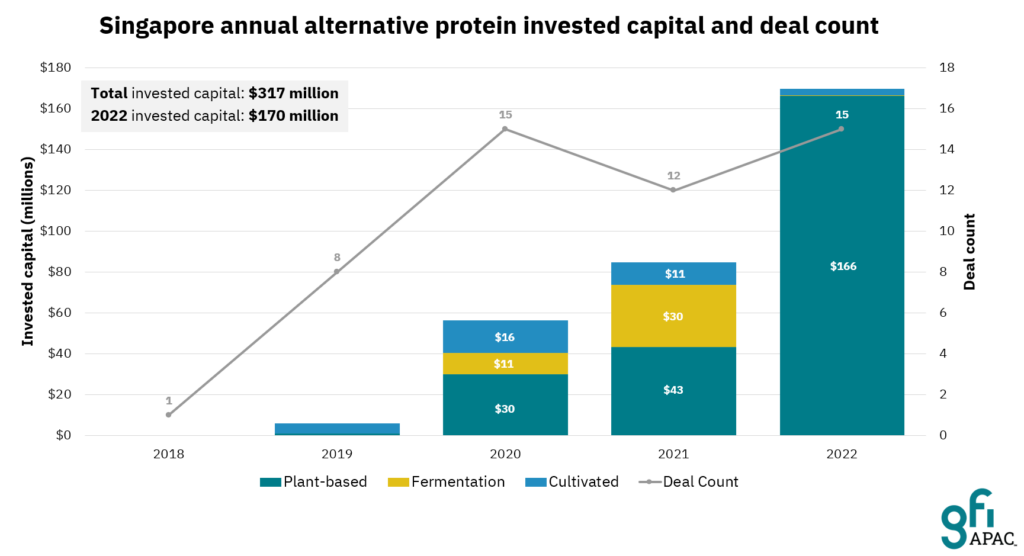 In China, alt protein investments rose from $24 million in 2021 to $152 million in 2022—a more than 6x increase in a single year.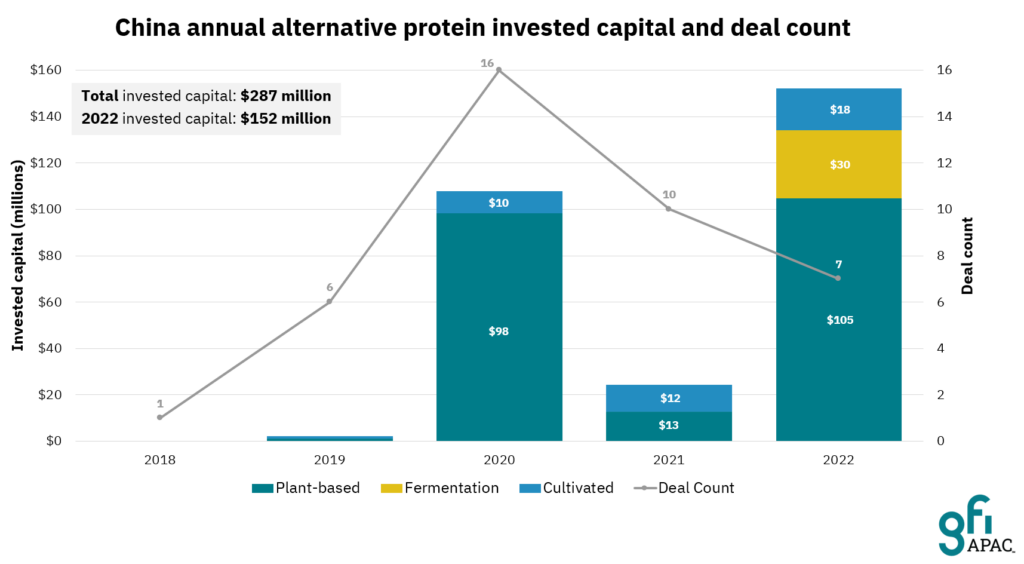 Not coincidentally, both countries' governments have publicly thrown their support behind alternative proteins as a key solution to national food security and climate challenges. While GFI APAC's analysis does not include public-sector investment figures, these latest numbers suggest that public-sector support and private investment often go hand in hand.
Many global banking experts believe that only through this combination of public and private investment will it be possible for fast-growing regions like Asia to rapidly scale up regional alternative protein manufacturing infrastructure.
"Asia is the manufacturing engine that powers many of the world's most important industries, but engines don't just start themselves. Deep institutional investments from sovereign wealth funds, pension funds, and creative capital sources are key to propelling the global alternative protein sector forward and sustaining a building boom big enough to meet this moment."
Matthew Spence, managing director and global head of venture capital banking, Barclays
The Global Picture
Taking a look beyond Asia Pacific, the story gets more complicated.
GFI APAC's analysis of investment activity within the alternative protein industry shows that—like most other sectors impacted by the 35 percent decline in overall global venture funding—worldwide alternative protein investment decelerated, decreasing from $5.1 billion in 2021 to $2.9 billion in 2022. Similar drops have been observed in many other industries as VCs broadly pulled back on the kind of bold investments from previous years.
Inflationary pressures, transportation disruptions, and supply chain shortages have also created snarls throughout the global food system, and the alternative protein sector is not immune to these forces.
Despite the fact that plant proteins, for example, are significantly more efficient to produce than their animal counterparts, the plant-based meat sector is still in its precarious, early days of industrialisation, meaning that even modest supply chain issues have an outsized impact. When costs rise, alternative proteins—which were already sitting in the "premium" price category—get even more expensive, diluting their appeal.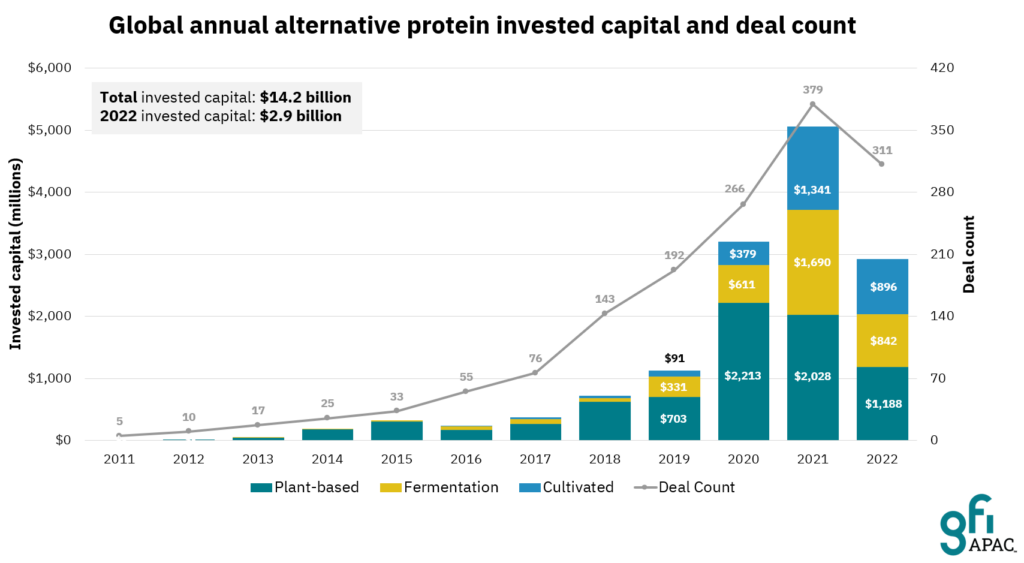 Despite this slowdown, GFI APAC's analysis reveals long-term growth, technology potential, and ESG alignment that provides much reason for investor optimism.
Over the past decade, $14.2 billion has been invested in alternative proteins, and although there's been a high variance over this period, investment has nearly doubled on average year on year. Investments grew 53 percent from $719 million in 2018 to $1.1 billion in 2019—the year Beyond Meat experienced its record-setting IPO and drew significant media attention to the sector. Buoyed by a slew of new products and innovations coming to market, alternative protein investments almost tripled to $3.2 billion in 2020 before surging to a record $5.1 billion in 2021—a time of broad investor exuberance, with record-breaking venture funding across most sectors.
During this period and against the backdrop of the public health and environmental crises of 2020 and 2021, investors doubled down in their support of meat produced with zero pandemic contribution risk and dramatically fewer emissions than conventional meat. While global numbers have returned to pre-2021 levels, they still far surpass investment in 2019—largely considered alternative proteins' 'breakout' year—and represent nearly 3x the investment of this milestone period.

Investors clearly see the bigger picture for alternative proteins and their optimism remains strong. A survey of investors currently active in or entering alternative proteins shows that 99 percent of respondents are optimistic about the long-term potential of the industry, and 87 percent expect to make investments in alternative protein companies or funds in 2023.
A Shifting Geographic Landscape
Between the significant growth in APAC funding and deceleration in North America, the distribution of investments by region is changing fast.
In 2022, for the first time in the alternative protein sector's history, investments from outside of North America represented the majority share of the global total (58 percent vs. 42 percent). For GFI APAC experts and other industry analysts, this newest data stands as a harbinger that the centre of gravity in 'future food' production is slowly but steadily shifting eastward.