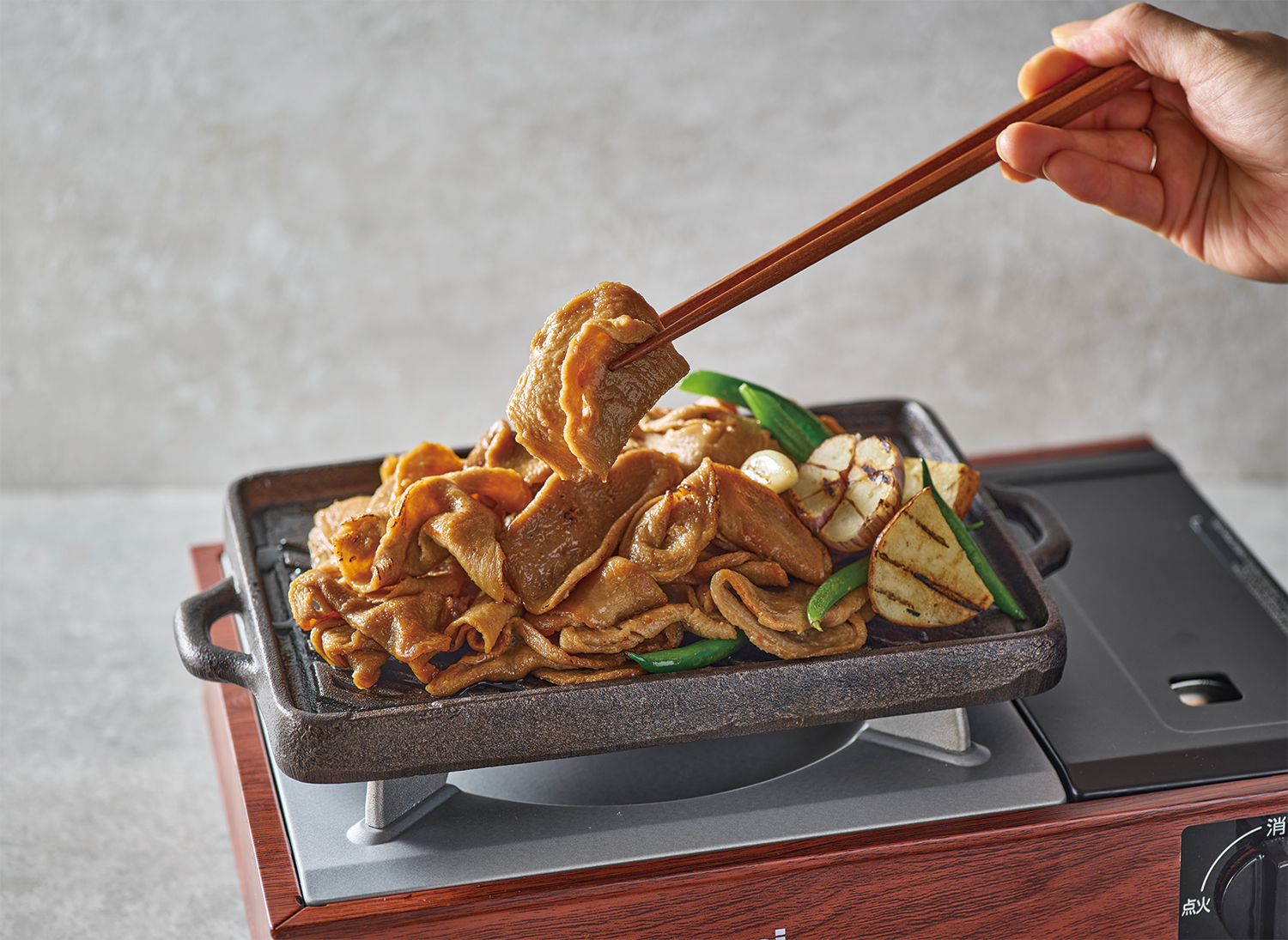 UNLIMEAT: Paving the Plant-based Meat Road in Korea
There's no doubt about it. Plant-based meat is sizzling in Asia. Plant-based meat companies like OmniMeat, Beyond Meat, and Impossible Foods are partnering with major chains like Starbucks and KFC to launch their products in major markets across China, Singapore, Korea, and more. Plant-based meat startups like Phuture Foods, Zhenmeat, and Shandi Meat are innovating next-generation products to further increase adoption. A recent Arizton report concluded that "Asia is expected to become one of the most lucrative markets for plant-based pork."
Over in Korea, the plant-based meat market is picking up speed with several new entrants. Lotte Foods introduced a range of plant-based meat products and Viomix recently entered the plant-based meat space with its "Better Than Meat" range of products. Considering meat consumption increased by 26% in March when COVID-19 was at its peak, the increasing demand for meat is undeniable. As the pandemic subsides, the plant-based market in Korea shows no signs of slowing down.
Today, I'm excited to dive deeper into one of Korea's leading plant-based meat companies, Zikooin, whose flagship plant-based meat product, UNLIMEAT, has already sent waves across Asia and the US with its rapid expansion and unique products made from upcycled grains, oats, and nuts that would typically be discarded due to cosmetic imperfections. We sat down with Keum Chae Min, Zikooin's founder, and Seyeon Park, Zikooin's Sales Manager, to learn more about the company.
Company Information
| | |
| --- | --- |
| Website: | https://zikooin-market.com/ |
| Location: | South Korea |
| Since: | 2017 |
| Business Type: | Food Manufacturing, Plant-based Meat |
| Primary Value Proposition: | UNLIMEAT, Korea's leading plant-based meat brand made from upcycled grains |
| Staff Size: | 20* |
| Last Funding Type: | Series A* |
| Investors: | Primer Sazze Partners, SG Dine Hill, Michigan Venture Capital, A Ventures, and Yellow Dog** |
| Funds Raised to Date: | 4 billion won (US$3.4M)* |
Data retrieved from Zikooin* and Startup Seol** on 14 September 2020. 
Zikooin's flagship products include its plant-based beef slices (UNLIMEAT BBQ and Plain) and its UNLIMEAT Dumplings. The company says its UNLIMEAT burger patties will launch in September 2020, followed by pulled beef, vegan cheese, and sausages in the future.
When it comes to price, it is noteworthy that UNLIMEAT has already achieved near price parity with other leading plant-based alternatives (in the US). Its beef slices average about $9.50 per pound, which is comparable to Beyond Meat patties at US$6-9 per pound, Beyond sausages at US$9-10 per pound, and Impossible burgers at US$8-9 per pound. This is a pretty remarkable feat for a company that only recently entered the space!
From Rescuing Ugly Produce to Creating a Different Breed of Plant-based Meat
The story of Zikooin started when founder Keum Chae Min was trying to solve the issue of "ugly food" not being sold to distributors. She sought to rescue this produce to create products like plum jam, juice, and onion soup powder. In the process, she noticed a lot of grains like wheat, nuts, and oats being wasted and started focusing on using this wasted grain to produce plant-based meat. Thus, the journey for Keum Chae to tackle both the environmental impact of meat consumption as well as food waste began.
The formulation of UNLIMEAT is also quite unique; instead of using common extrusion processes, Zikooin uses a patented method called protein molding extrusion, where different grain powders are mixed and formed into a dough. This "base dough" is then sliced and shaped into meat products that mimic the texture of whole muscle meat like brisket. Unlike most companies in the plant-based meat space which have focused primarily on minced products like burgers, sausages, and dumpling meat filling, UNLIMEAT is a new breed of plant-based meat looking to mimic more structured cuts of meat like sliced beef.
A Consumer-centric Strategy for Product Development
When it comes to product development, Zikooin is laser focused on being consumer-centric and ensuring that it plays its pioneering role to make plant-based meatdelicious enough to become mainstream. Especially in a market like Korea where plant-based foods typically consist of tofu and other plant-based ingredients, plant-based meat is shocking and new to many Asian consumers. Thus, Zikooin is heavily focused on how to get mainstream consumers to try their products for the first time, since its consumption doesn't come "natural" to these consumers.
Following this consumer-first strategy, Zikooin's first product was its beef slices since slices are the most "common form of meat" that is ubiquitous in Asian cooking. Following this, Zikooin is launching its sausage and beef patties as a result of market demands and to expand into the US market. According to Zikooin, the company prides itself on localizing its products, testing the market, getting a response, and then developing new products accordingly.
Another way Zikooin is uplifting the perception of plant-based meat is to directly refute and re-brand the idea of soy-based mock meat that is common amongst Asian vegetarians and Buddhist communities. According to Zikooin, these mock meat products are not well-branded nor customer friendly. That's why Zikooin aims to educate consumers and present their plant-based products as more friendly and approachable to the everyday consumer. To do this, Zikooin is focused on providing "the most delicious plant-based meat in the world," especially since most Korean consumers are more motivated to purchase by taste than by environmental and animal welfare issues.
The Role of Partnerships in International Expansion
When it comes to market expansion, partnerships play a central role in Zikooin's growth strategy. Apart from being available in several retailers and 400 Subway stores across Korea, Zikooin recently entered the Hong Kong market by partnering with Green Monday to launch its products in Green Common and Kind Kitchen. In the US, UNLIMEAT is already sold through online grocery delivery company Ploma. According to Zikooin, it plans to expand into other markets like Malaysia, China, and Singapore later this year.
When first launching in new markets, Zikooin partnered with many restaurants in Korea, Hong Kong, New York, and San Francisco to host restaurant pop-ups to increase its brand presence. For instance, they worked closely with Green Common restaurants in Hong Kong to develop a HK-style beefless satay toast. Clearly, looking for great local partners who have expertise that Zikooin can leverage has become a tenet of its growth expansion strategy.
Becoming Korea's Leading Plant-based Meat Brand
The growth of Zikooin and its UNLIMEAT products across different markets has positioned it as one of Korea's leading plant-based meat brands. Despite this, investors in the region are still not 100% bullish about plant-based meat. When asked about investor interest in the plant-based meat space, both Keum Chae and Seyeon acknowledged that Korea's plant-based meat industry is very nascent and that while investors know that the plant-based market will expand in the future, they are still not certain about the space. Furthermore, they expressed that investors heavily expect a first mover like Zikooin to do extremely well in order to prove the market.
At the end of the day, Zikooin is pioneering a novel product in a region where meat is still heavily ingrained in its culture and cuisine (e.g. Korean BBQ). With UNLIMEAT, Zikooin is betting on taste, flavour, and product localization to woo consumers to try plant-based meat for the first time. If taste really is king, then Zikooin and UNLIMEAT are on its way to getting a piece of the meat pie.
All images courtesy of Zikooin.