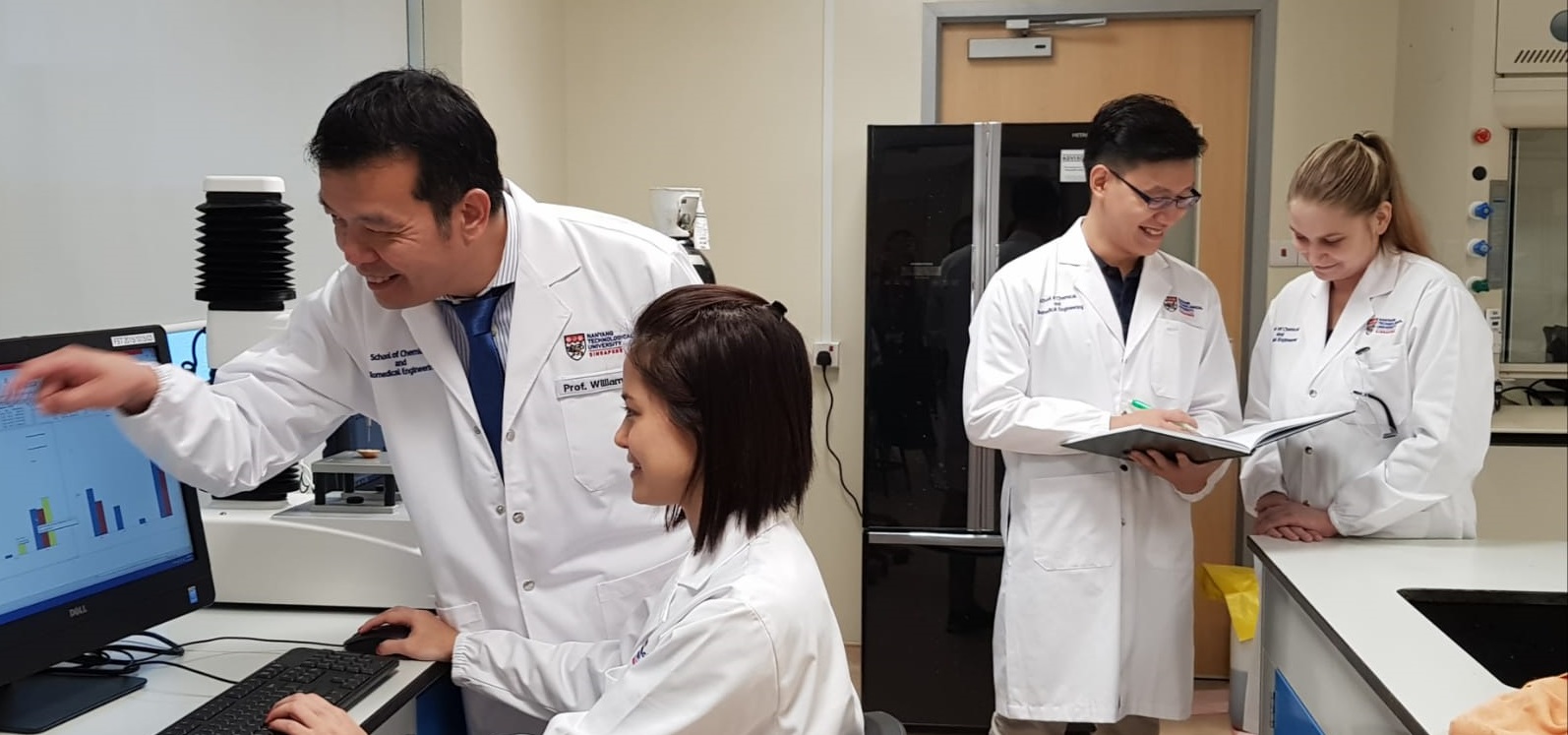 Singapore's NTU: Platform Technology to Develop a Food Circular Economy
After releasing the inaugural #AsiaAlt100 list we've seen a lot of enthusiasm in the sector, and many want to find out more about these early movers and shakers changing the protein landscape. As promised you can expect a series of Asia Stories of Alternative Protein where we'll together discover more about these businesses and individuals through deeper conversations.
This week we spoke with Professor William Chen of Nanyang Technological University (NTU). In my mind a university in Singapore is arguably the best launchpad into a research career in alternative proteins. No other government is as unswervingly committed to grow the alternative protein industry as part of its national policy as the Singapore government. It seems like a no brainer given Singapore's unique position: heavy dependence on food import (more than 90%) for local consumption creating imminent food security risks; and following that, very little local vested interests that may oppose the push to diversify into alternative food sources. It is an extremely interesting food system revolution model that, if proven successful, may be exported to ASEAN and beyond.
"So, is there a lot of money in Singapore for alternative proteins R&D?" I just went for it. Read on to find out more.
Organization Information
| | |
| --- | --- |
| Location | Singapore |
| Organization Type | Public autonomous research university |
| Website | https://www.ntu.edu.sg/ |
| Student Size | Undergraduate: 23891; Graduate: 8124* |
| Faculty & Staff Size | 8,345* |
| Research Grants | S$673.6m* (US$482.8m) |
*All numbers retrieved from NTU's website on 4 July 2020.
Alternative Proteins Relevant
Programme

Food Science Technology (FST) Programme

School

Nanyang Technological University Singapore

Research (Past)

Fermentation technology developed to

upcycle soybean residue Okara

that can vastly reduce the cost of culture medium for growing e.g. yeast and microalgae.

Research (Current)

Microalgae as alternative protein source

Developing scaffolding for cultivated meat

Zero waste food processing

Notable Partnerships

Wageningen University & Research –collaboration in talent development

Singapore Food Agency – government collaboration

Temasek Foundation – government collaboration

A*STAR – government collaboration

F&N-NTU F&B Innovation Lab – industry collaboration

Sophie's Bionutrients – industry collaboration

Ghim Li Group – industry collaboration

Intersnack – industry collaboration
There's Resource, and Then There's Resourcefulness
Singapore has to be resourceful in order to shift from 90% food import to producing 30% of its nutritional needs by 2030, a policy push that the Singapore government seems more than 100% committed to. And understandably more so, after the supply chain disruption seen worldwide over the pandemic.
"Consumers need to realise what they're eating now, they're not going to be able to eat forever. COVID is a wakeup call. This is the best opportunity to get people to buy into alternatives," said Chen.
The technology innovations developed by NTU FST have contributed to Singapore's "food circular economy" vision, in which all raw materials for the food processing industry would be fully utilised.
"Consumers need to realise what they're eating now,
they're not going to be able to eat forever."
A good example is Chen's research in developing fermentation technology for nutrient recovery from side-streams of the food processing industry, including with Okara, a soybean residue, to produce yeast-growing medium. While commercial culture media costs between $11-36 per litre, a litre of the NTU medium will cost $3. For every kilogram of soya bean used, 1.1kg of soya bean residue is produced. Just 200g of residue can make a litre of the medium. Professor Chen said Okara can also replace medium for growing microalgae, ultimately with the potential of decentralising food production to the household level. "It's doable if the science is simple enough," said Chen.
Do Science, Think Business
"Industry wants simplicity," said Prof. Chen. "But simplicity doesn't mean easy."
When most things in this world "are complicated", achieving simplicity is in fact the most difficult endeavour. That's not just in science, but in life! We both laughed.
Smart positioning is also important. "We are not promoting a one-stop-shop in Singapore, rather, we are promoting the idea of an urban food system that can be efficient and scalable. If neighbouring countries can apply this model, we can together bring down food production costs. It's a win-win." Cutting cost and scaling up are the two major challenges to the alternative protein sector, and Professor Chen is addressing these challenges as untapped opportunities in his work.
"Industry wants simplicity."
Having published extensively in peer reviewed journals, with more than 200 papers, Professor Chen urges academics and people inspired to make a bigger impact in the world to work smart. Professor Chen's research is highly interdisciplinary, which has resulted in his active joint R&D with the food industry, government agencies and non-governmental organizations. He is also active as PI and Co-PI of competitive external research grants totalling more than S$30 million (US$21.5 million).
"Media has been a great help," said Chen, "I have been very lucky in that my research tends to get a lot of media interest, because everybody eats!" Chen encourages researchers and scientists to strategise around this to attract funding and talents, and support from both the industry and the government. Build momentum, momentum drives impact.
To scientists aspiring to work on alternative proteins, Professor Chen said that ultimately it's very personality driven. Bottom line is one needs to dare to go out of their comfort zone.
"Be curious. See what other people are not seeing and have an open mind to possibilities," said Chen, "Make your work relevant."