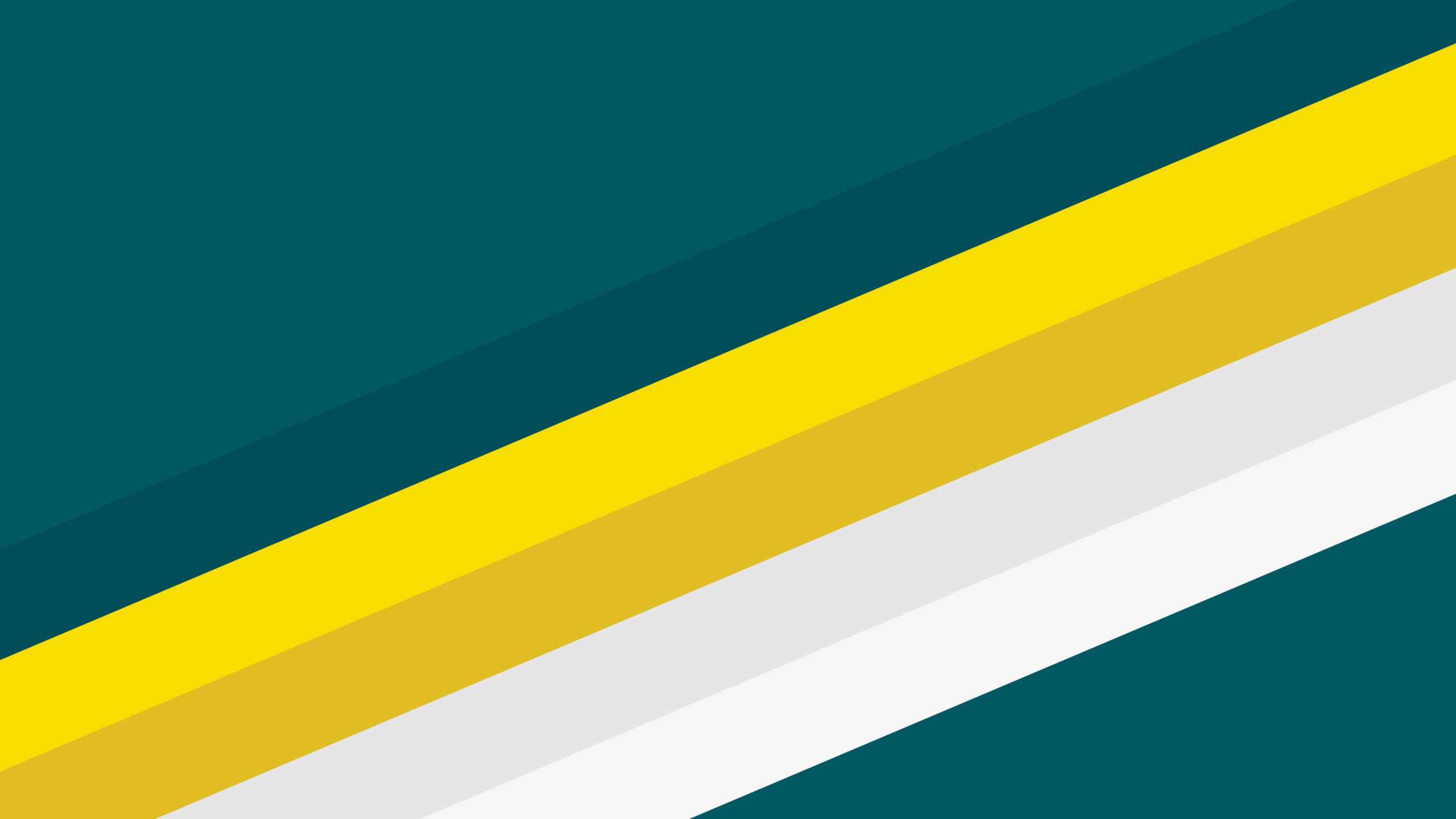 Record $3.1 Billion Invested in Alt Proteins in 2020, APAC is Fastest-Growing Region
New data released by The Good Food Institute Asia Pacific (GFI APAC) reveals that 2020 saw a stunning $3.1 billion (USD) in investments in companies creating sustainable alternatives to conventional animal-based foods, including plant-based meat, egg, and dairy companies; cultivated meat companies; and fermentation companies devoted to alternative proteins.
This record surge in capital investment was three times more than what was raised in 2019 and 4.5 times more than 2018. Of the $5.9 billion raised by alternative protein companies over the past decade, more than half was received in 2020 alone.
Leaders of the APAC
Zooming in on Asia Pacific, the picture is even more impressive, with a more than sixfold increase between 2019 and 2020, year-over-year.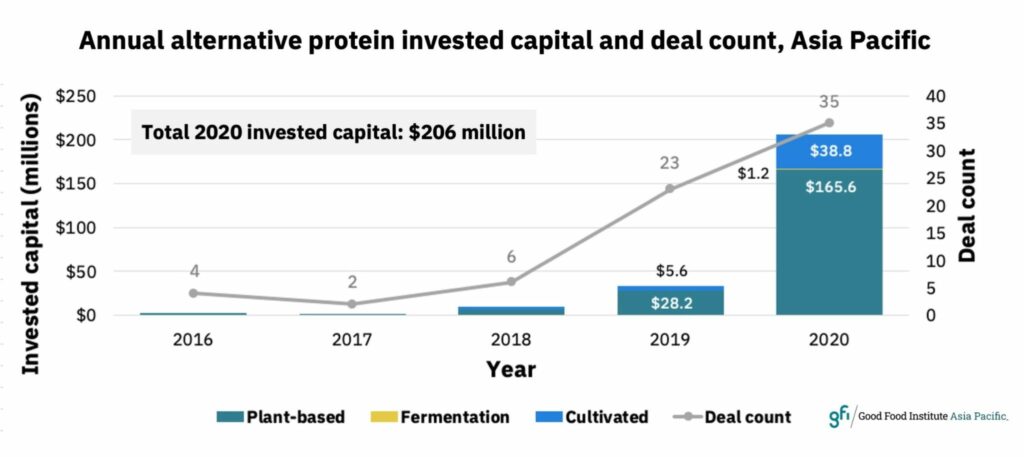 Hong Kong-based Green Monday led the way among APAC plant-based companies, with a $70 million haul in 2020. Meanwhile, Sophie's Bionutrients was the region's leading fermentation company ($1.2 million) and Shiok Meats secured the most funding of any APAC cultivated meat company, with $12.6 million. Both Sophie's Bionutrients and Shiok Meats are based in Singapore.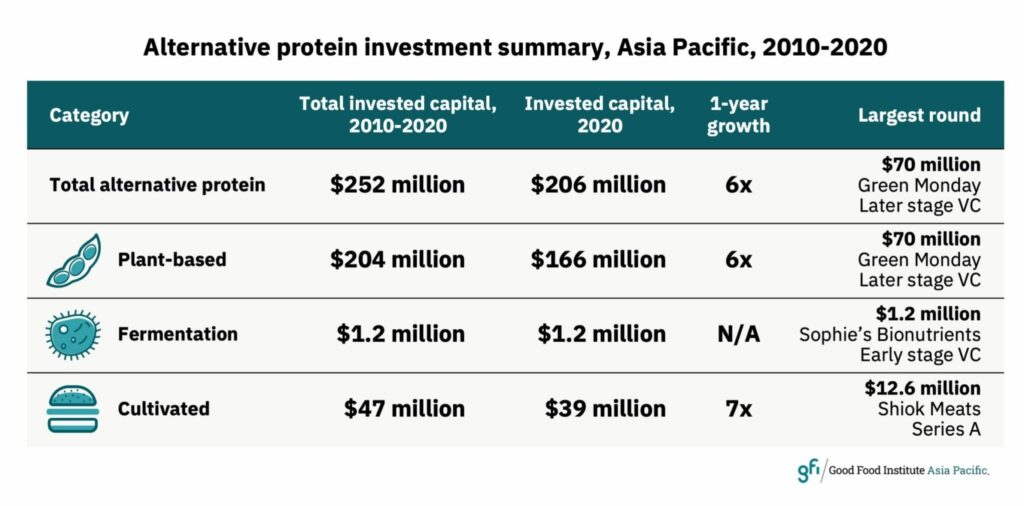 "The acceleration of alternative proteins in Asia Pacific has arrived, and not a moment too soon, because conventional meat production is ill-equipped to handle the escalating pressures of skyrocketing protein demand, increased climate disruption, and threats of viral outbreaks. This clear vote of confidence for smarter ways of making meat signals the beginning of a seismic shift, but to fulfill countries' net-zero emission pledges and deliver increased food security, we need governments to match the enthusiasm of the investment community by redoubling their support for plant-based and cultivated meat R&D."

– GFI APAC Acting Managing Director Mirte Gosker
Insights From Around the Globe
GFI APAC's analysis of alternative protein investment activity in 2020 was conducted using the PitchBook Data platform and breaks down data in the industry's three major pillars:
Plant-Based Meat, Egg, and Dairy
Plant-based meat, egg, and dairy companies received $2.1 billion in investments in 2020—the most capital raised in any single year in the industry's history and more than three times the $667 million raised in 2019. These companies have raised $4.4 billion in investments in the past decade (2010–2020). Almost half, or $2.1 billion, was raised in 2020 alone. This included Impossible Foods' record $700 million funding haul, which comprised a $500 million Series F in March and a $200 million Series G in August; LIVEKINDLY's $335 million venture capital financing; Oatly's $200 million private equity and $78 million debt financing; and Califia Farms' $172 million private equity financing.
Cultivated Meat
Cultivated meat companies received more than $360 million* in investments in 2020, which is six times the amount raised in 2019 and 72 percent of the amount raised in the industry's history (2016–2020). This included the first two series B raises in the segment: Memphis Meats' landmark $186 million round and Mosa Meat's $75 million round.
Fermentation
Fermentation companies devoted to alternative proteins received $590 million in investments in 2020, which is more than double the amount raised in 2019. This included Perfect Day's $300 million Series C funding round and Nature's Fynd's $45 million debt round—the first disclosed venture debt capital raise by a fermentation company. Fermentation companies have raised more than $1 billion in investments since the first GFI-tracked investment in 2013, 57 percent of which was raised in 2020 alone.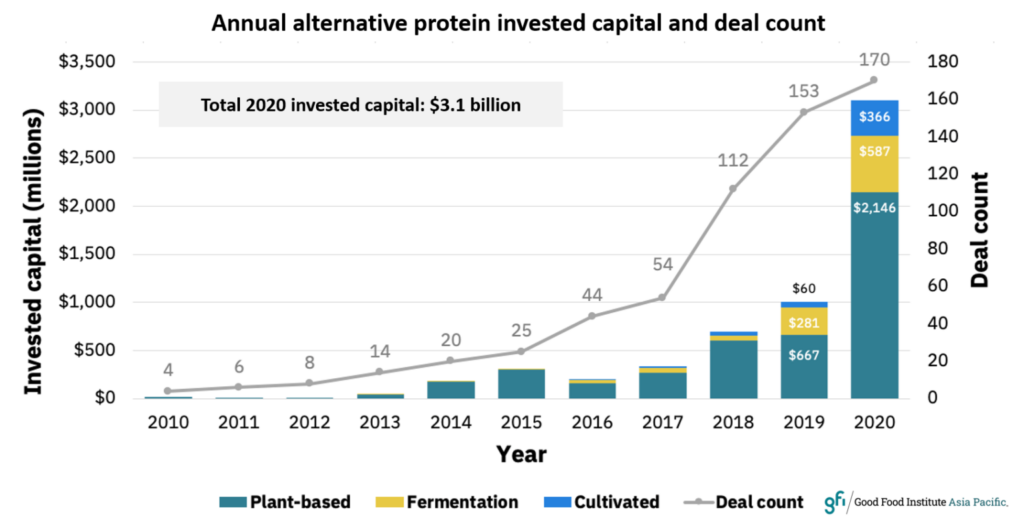 Within these global numbers, plant-based and cultivated seafood companies are catching a wave of their own. In 2020, these companies raised more than $80 million in invested capital, four times the amount raised in 2019. This represents 66 percent of the capital raised by alternative seafood companies since the first GFI-tracked investment in 2015. 2020 also saw the first Series B round among dedicated alternative seafood companies, with plant-based seafood company Good Catch raising a $37 million Series B round. Three cultivated seafood companies raised Series A rounds in 2020, continuing a trend started in 2019. One of these companies, BlueNalu, went on to raise a $60 million convertible debt round in January of 2021, a record-sized deal among alternative seafood companies.
Growing Appetite for Climate-Friendly Investments
While investor confidence in alternative protein companies is driven by multiple market factors, the many planetary issues laid bare over the past year illuminate the risks associated with business-as-usual portfolios and practices.
"The investor community is waking up to the massive social and economic potential of food technology to radically remake our food system," says GFI US Senior Investor Engagement Specialist Sharyn Murray. "Early trend setters like Impossible Foods, Beyond Meat, Memphis Meats, and Mosa Meat continue to perform well, and there are more and more entrepreneurs who see the potential of alternative proteins to succeed in the marketplace while having a positive global impact on food sustainability and global health."
The surge in investments over the past year signal a growing appetite for climate-friendly investments that reap returns that benefit both investors and their communities. Alternative protein investments can prime the pump for dramatic improvements in both the productivity and efficiency of our food system and, on a broader scale, the greening of our economy—where growth is decoupled from environmental harm. In addition to expanding consumer choice, investments in alternative protein innovation can stimulate economic growth, create jobs, reduce global health risk, and contribute to food safety and security.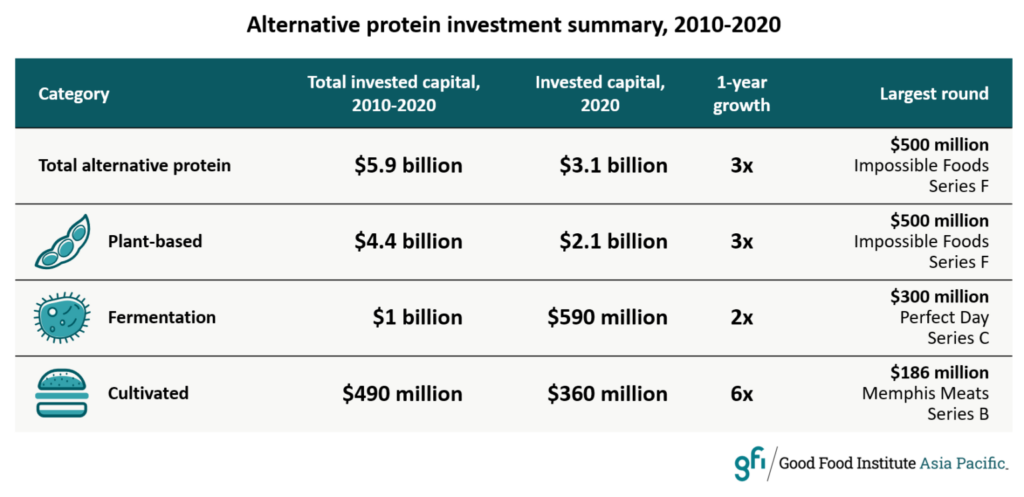 As the world still grapples with a global pandemic, the prospect of meat produced with zero risk of contributing to zoonotic disease transmission or antibiotic resistance has even greater relevance. Recognizing that alternative proteins offer a scalable solution that gets the world closer to a more secure, sustainable, and just global food system, investors are positioning themselves at the forefront of that transition.
Methodology:
To quantify 2020 alternative protein investment activity, GFI used its company database to create a custom list of global plant-based meat, egg, and dairy companies; cultivated meat companies; and fermentation companies devoted to alternative proteins tracked by PitchBook Data Inc. This yielded a list of more than 550 companies. GFI was unable to include some qualifying plant-based, cultivated, and fermentation companies — namely, those in the early stages of development — because they do not yet have profiles on PitchBook. Please note that the figures published in this release may differ from prior figures published by GFI as we continuously improve our dataset. For the purposes of this release, "investment," "investment capital," and "invested capital" are used interchangeably to refer to deals including accelerator or incubator funding, angel funding, seed funding, equity or product crowdfunding, early-stage venture capital, late-stage venture capital, private equity growth/expansion, capitalization, corporate venture, joint venture, convertible debt, and general debt (but excludes mergers, acquisitions, reverse-mergers, buyouts and leveraged buyouts, IPOs, subsequent share offerings, and private investment in public equity). 2020 data pertains to the 52-week period ending December 31, 2020. This data has not been reviewed by PitchBook analysts.
*Although animal cell culture has primarily been applied to cultivated meat production to date, this data also includes $13 million in investments in companies using similar processes to produce dairy. TurtleTree Labs raised a disclosed $9.5 million, while BIOMILQ raised a disclosed $3.5 million.