Aligning cultivated food nomenclature across APAC
Any time new foods are introduced to mainstream audiences, there will be a steep learning curve. That challenge is only further compounded if the companies and individuals working to accelerate adoption of these new foods each choose to use their own terminology.

If manufacturers, media outlets, regulators, and other key entities are all using different nomenclature to describe the same thing—in this case, meat and other foods grown directly from animal cells—we can't blame consumers for being confused.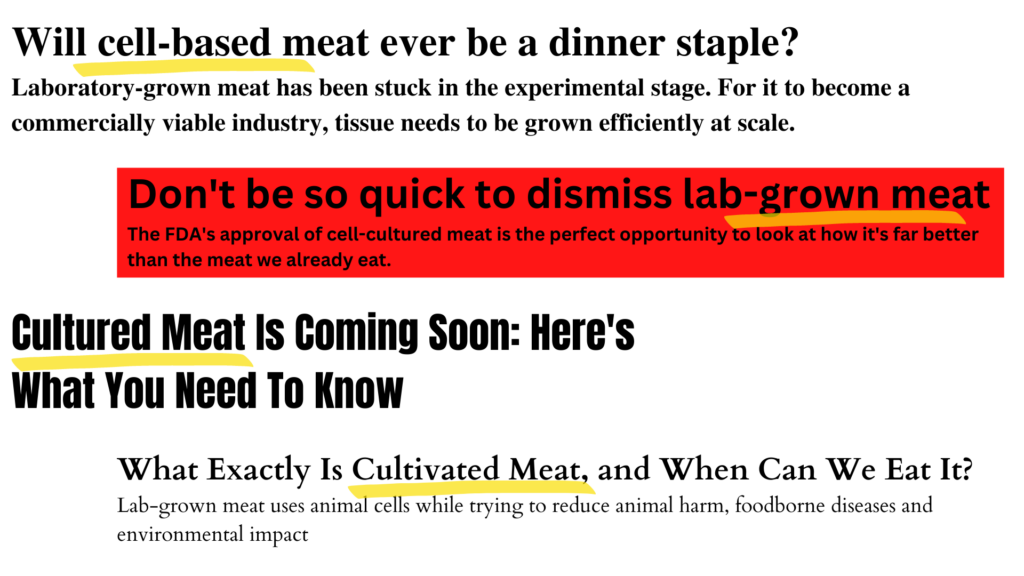 Why GFI uses the term "cultivated"
Back in 2018, GFI's global experts wanted to see what terms cellular agriculture startups were using to refer to products grown directly from animal cells. That led to GFI embarking on a first-of-its-kind study in collaboration with UPSIDE Foods and leading food and beverage innovation firm Mattson.
This research involved several phases of nomenclature ideation and testing, ultimately resulting in the identification of four primary criteria for a successful category name:
Appeal to customers
Neutrality of the term for multiple stakeholder groups
Descriptiveness
The ability to differentiate the category from conventional and plant-based meat

In addition to these criteria, we agreed that successful nomenclature would best emerge from the creation of a compelling narrative rooted in evidence-based communication strategies.

Through this work, we developed three different tools:
Upon conclusion of the research, for reasons further articulated here, "cultivated" was the clear winner.
---
Cultivated meat: A growing nomenclature consensus
Following the release of the above research, GFI's 2020 cultivated meat industry report indicated that the nomenclature used by manufacturers appeared to be coalescing around a smaller pool of preferred terms. The most popular was "cultivated" meat, with 37 percent of the votes, followed by the two runners-up: "cultured" and "cell-based," with 25 percent and 18 percent, respectively. The remaining 20 percent of respondents were using a variety of other terms to describe their meat production process.

This shift accelerated even more drastically the following year. In September 2021, GFI polled company CEOs on their preferences and found that 75 percent of the 44 companies that replied now preferred "cultivated." "Cultured" came in second at 20 percent, and only five percent chose other terms.
Read more on Cultivated meat: A growing nomenclature consensus
Building on this emerging consensus, the Good Food Institute APAC (GFI APAC) facilitated a series of stakeholder roundtables in 2022 featuring top representatives from dozens of cellular agriculture industry stakeholders across Asia Pacific. One of the primary goals of these discussions was to align around a single preferred English-language descriptor for food products grown directly from animal cells.

The results of this effort were officially debuted at Singapore International Agri-Food Week in October 2022, where GFI APAC and the APAC Society for Cellular Agriculture joined more than 30 other key industry stakeholders to announce a first-of-its-kind memorandum of understanding (MOU) aligning on "cultivated" as the industry's preferred nomenclature.
Who signed this MOU?
The initial 36 signatories included nearly every cultivated food startup in Asia Pacific—including those dedicated to meat, seafood, dairy, and even animal fat—as well as regional coalition groups such as China's Cellular Agriculture Alliance, Cellular Agriculture Australia, the Japan Association for Cellular Agriculture, and Korean Society for Cellular Agriculture. Other signatories include the Future Ready Food Safety Hub (FRESH)—an entity jointly launched by the Singapore Food Agency, A*STAR, and Nanyang Technological University—and major multinational companies Cargill and Thai Union.
The initial nomenclature MOU in October 2022 featured 36 signatories, as seen in this PDF and are listed below. Additional signatories have since been added to this MOU and their logos also appear below. The MOU PDF remains in its original form.

Download a slide deck summary of this nomenclature consensus process here.
Join us!
If you are a cultivated food industry stakeholder based in Asia Pacific, we would love to add your name to our alignment MOU.
To add your entity's support to this historic MOU, please fill out the form below. Once you have completed and submitted the form, you will receive a confirmation email.