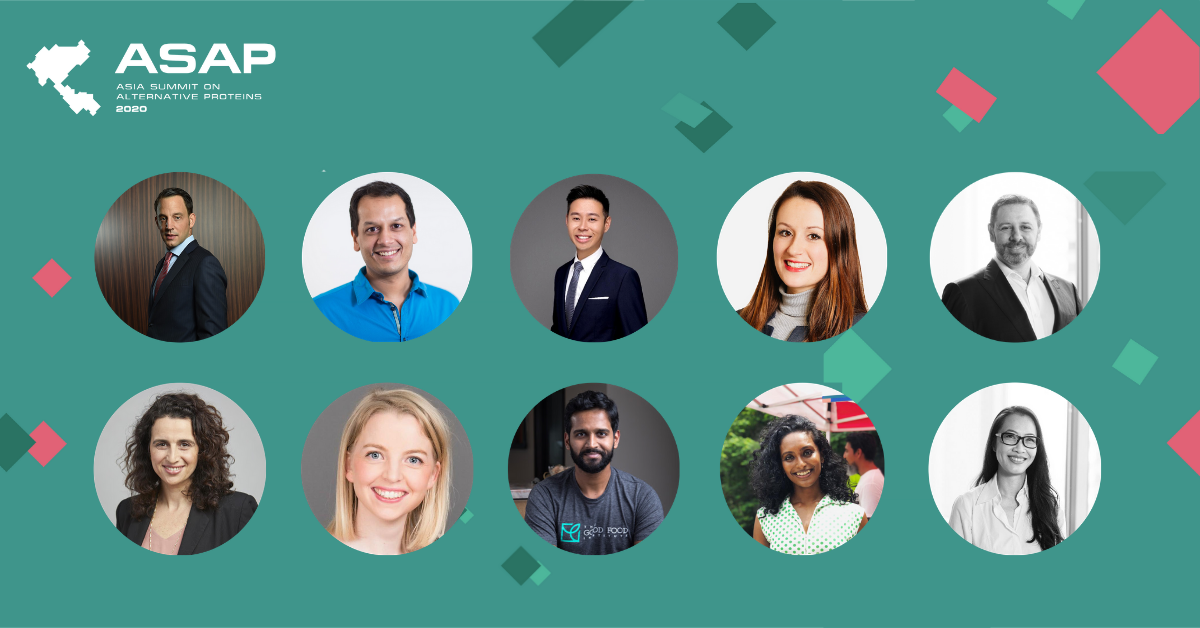 ASAP 2020: An Industry Summit to Accelerate Alternative Protein in Asia (Part 2)
Two weeks ago today, we hosted ASAP 2020. We're still seeing a lot of excitement on social media, where speakers and audience are sharing and commenting on what happened at the summit. I have to attribute at least part of this lasting buzz to the way we conducted the summit—yes, we did it talk show style. In this part 2 recap, I will highlight some of the best shows we had that kept people talking. If you've missed them, and gutted after reading this, the good news is that you can watch them all on our newly launched YouTube channel!
As the name of the summit suggested, we're all about initiating and supporting acceleration of the alternative protein sector in Asia. 2020 has been extraordinary in many ways—as the world came to a halt, the tailwind behind alt protein has been further strengthened by the unprecedented hit on the conventional food supply chain and the awakening on public health risks related to food production. And so, the bandwagon era begins.
GFI is quite uniquely positioned to contribute to upholding the integrity of the industry—acceleration is key, but only sustainable acceleration can ensure this sector can shift the paradigm in the world. This is why we busted some myths (see recap Part 1) and focused on showcasing personalities. Industry needs role models to set the bar high‒the hero and heroine who are authentic visionaries that respond to risks and adversity with integrity and grace. To that end, we made a talk show.
The Best Business Case Studies in Plant-based and Cell-ag
I've been wanting to tell the Green Monday story for the longest time. To me, there's so much that the industry needs to know about the Green Monday Group, as a business case study.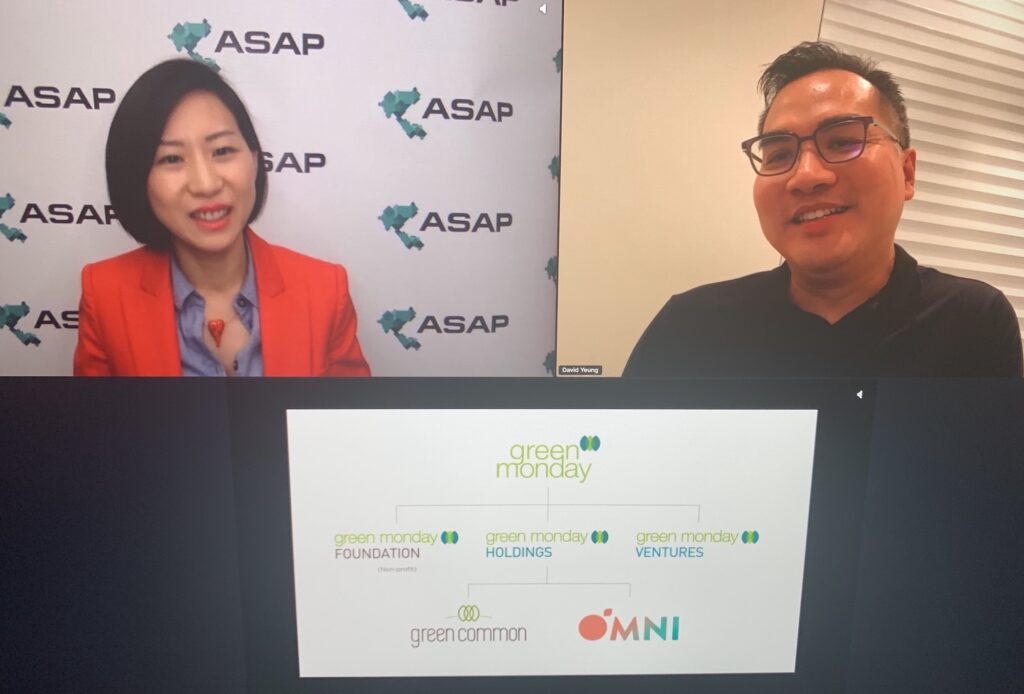 Did you know?
Green Monday Group operates in almost every aspect of alternative proteins: nonprofit, wholesale, retail, food service, plant-based meat startup

Omnipork

, venture capital. It's one of, if not the most, holistic strategy and corporate structure in this sector.

Sure, it makes so much sense in hindsight, but what if I tell you this blueprint and execution started back in 2012. Let alone "alternative protein", even the term "plant-based" had barely been created yet, nobody at that time was reimagining "mock meat" in a 2.0 way. Mic drop.

Omnipork is already selling in 8 Asia markets including mainland China. Most in the audience was not aware. But probably more importantly, Green Monday is distributor for more than 30 alt-protein brands, the new market entries of many brands are accelerated along with Omnipork (now OMNI – a much wider product range and partnership strategy).
Green Monday Group is "a platform and ecosystem to advance the whole plant-based and future food system," says David Yeung, Founder and CEO of the Green Monday Group, "it will take a whole coalition of mission-driven people and companies to achieve this goal."
While the US and European alt-protein markets are starting to mature, in Asia this industry is still at its infancy. When venturing into different countries in Asia, it's very likely to find yourself where David was at in 2012, where there's no market, and you go in to create one. That's why the Green Monday story is of such relevance and importance.
"Where can I join the dumpling army??"
– Audience at ASAP 2020
Is there a David in the cultivated meat arena? Luckily, the answer is YES! And he's Yuki Hanyu, Founder and CEO of IntegriCulture from Japan.
Again, it's a holistic strategy. IntegriCulture, now the highest-funded cell-ag startup in Asia, is but a spin-off from a bigger plan. Yuki started two years after David, in 2014, also with a nonprofit: Shojinmeat Project. The end goal is democratisation of cellular agriculture. Nonprofit, startup, industry association—all of which Yuki has built over the years—are vehicles to get to that goal. And the final destination is outer space (Yuki has already started working with JAXA aka Japan's NASA on this.)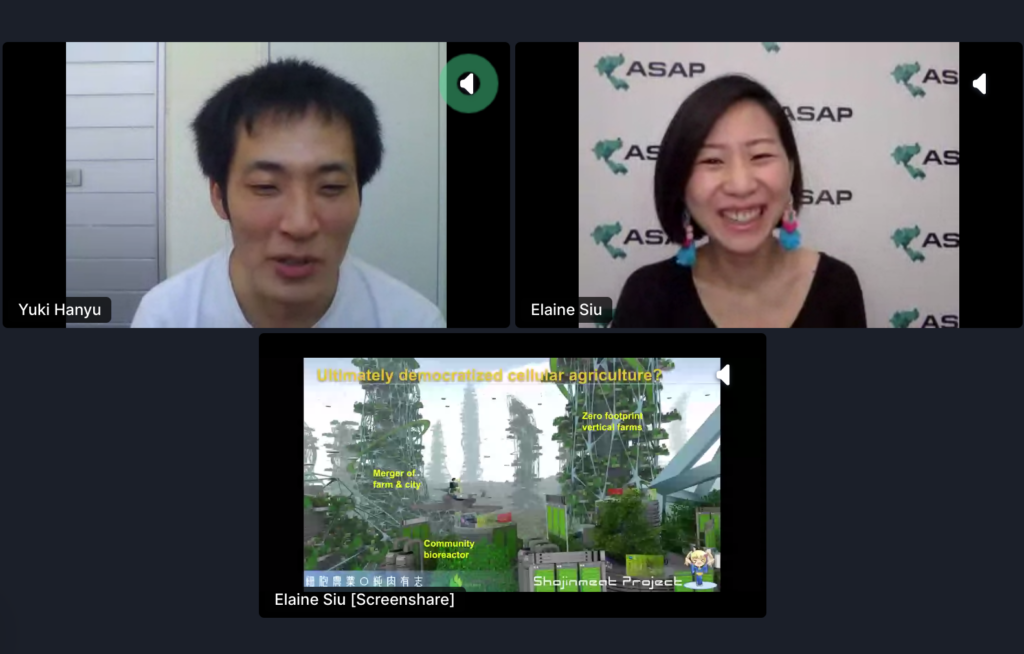 IntegriCulture is an infrastructure business, instead of trying to make that piece of meat (they do that too, but not only), its focus is more in creating the platform that other cell-ag startups can plug in and play thereby accelerating the whole sector. I've written another post on IntegriCulture previously, so I'd end this here by saying quite a few people from the audience were yelling (in the chat box during the live session) "this is why Yuki is my favourite person in this space!" I can't agree more.
The Tale of Two Countries
I had a very clear premise in putting together this session—let's put together two countries that are at polar opposites as policy case studies, and see what comes out of it. On one end of the spectrum, Singapore. A country that imports 90% of its food and has almost no reason to hesitate in growing its alternative protein sector for food security reasons; On the other end of the spectrum, Australia. A country that has animal agriculture as one of its biggest GDP components.
What a pleasure to have Kelvin Ng, Head of Strategic Innovation & Enterprise, Bioprocessing Technology Institute of A*STAR, and Thomas King, Founder & CEO of Food Frontier—both of whose work I've been admiring and following for some time now—to deep dive into the unique perspectives of Singapore and Australia respectively.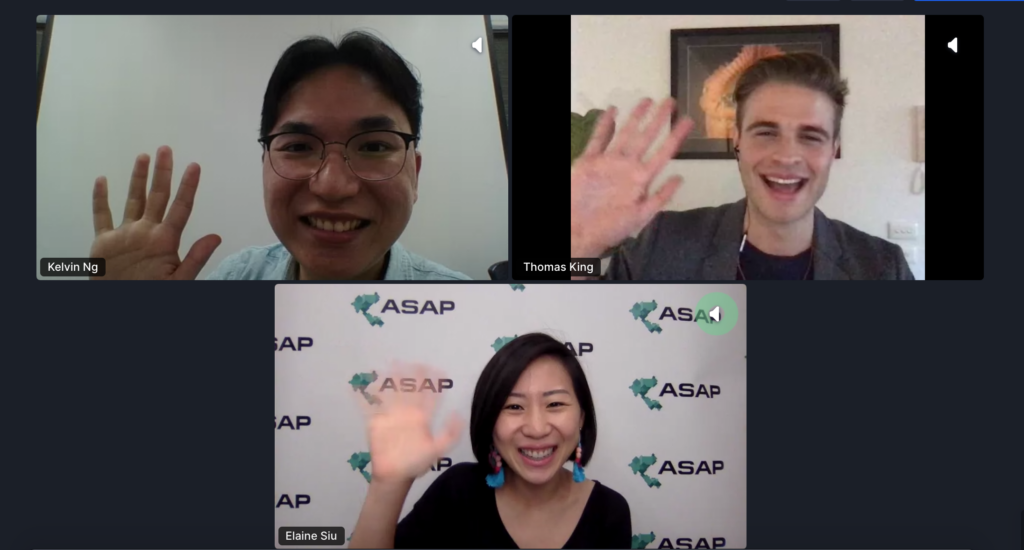 According to Kelvin, these are the values that can alternative protein can bring to a country:
A more dynamic job market as skills are repurposed

A wider toolbox of ingredients to improve public health

A more diverse supply network to enhance food security

A more vibrant ecosystem for an innovative economy
Thomas, on the other hand, is smartly working around the status quo in Australia and New Zealand, for example creating a first-of-its-kind quantitative study of the potential economic and employment contribution to Australia's economy by growing its plant-based meat sector (AUD3 billion domestic sales and over 6,000 full time jobs). Our discussion spanned from horizontal mobility across industry verticals to policy making to keep a country competitive in the global market.
Kelvin summed up this session brilliantly, I had such a blast chatting with these two strategic thinkers and effective doers, "As the world cross-pollinates technologies to enable alternative protein, we cross-pollinate visions and cultures."
Reinventing fish, shrimp, milk, and more
"Fantastic insights. So empowering to listen to an all-female panel!"
– Audience at ASAP 2020
It's always fascinated me that the first cultivated meat company in Hong Kong (Avant Meats) was founded by a woman; the first in Singapore (Shiok Meats) was founded by two women; and the first cultivated milk company in Singapore (TurtleTree), also has a female co-founder. Being women and started in this industry around the same time, I'd like to think we've built a bond and it's amazing what these three founders have achieved in the past year. So naturally, I put together this to get our audience a bit of a startup inside scoop.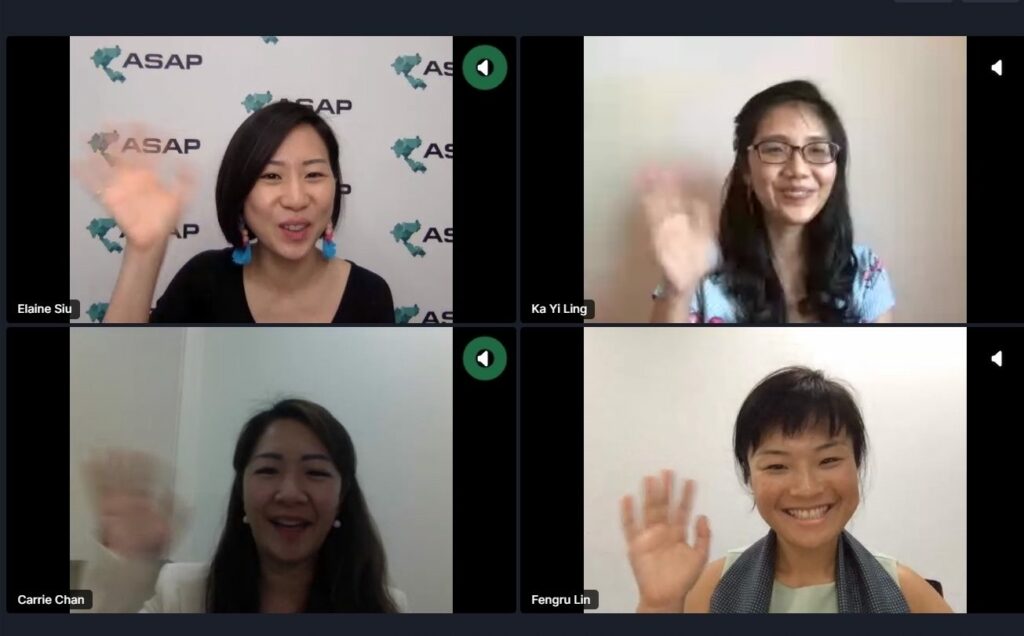 One word that came up a lot during this summit is collaboration. Amongst both speakers and attendees, there's a clear consensus that the industry needs to work together to take the alternative protein sector to the next level. That's why we're so keen to facilitate networking and valuable connections through a summit like this.
"We found it most useful, especially in connecting with so many people outside of our network which we otherwise may have missed. We were also part of the ASAP Startup Expo, and all of our investor meetings were very relevant and led to further follow-up discussions."
– David Bucca, Founder & CEO, CHANGE
As a result of our matchmaking efforts, more than 40 investor-startup meetings were held during our summit. We showcased 14 startup booths during our summit:
Amidst these startup founders, and amongst scientists/entrepreneurs/food industry experts in our audience who are already in alt-protein or thinking of taking that leap, we have the next David and Yuki. I'm very passionate about telling these stories, as these visionaries set the bar high for everyone else that comes after. Whenever we can't see the whole staircase, which is often the case in alt-protein or any truly disruptive space, these are the stories that remind us to have faith and push ourselves to be even better so we can measure up and even surpass whoever's set the last record.
At the end of the day, we are harnessing the power of business and innovation to create enormous impact in the world.